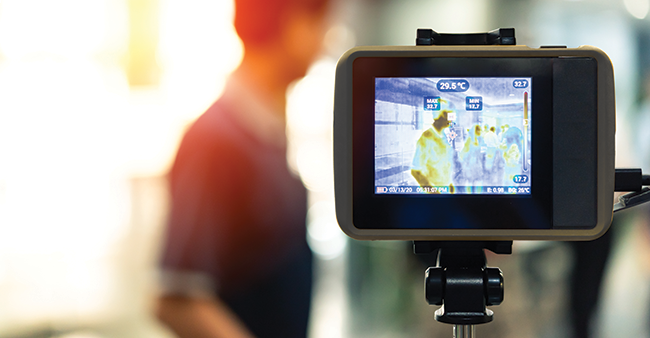 Elevated Temperature, Mask Detection Technology: Outfitting the New Workplace
Big changes have come to the retail environment, the workplace, transportation hubs and other places where people spend time together -- and more changes are on the way.
Some of these changes could mean opportunity for security dealers, and equipment makers are stepping up to help ensure that dealers have the technology they need to meet business customers' new demands.
Several companies – including Dahua, Invid Tech and ZKTeco – have introduced thermal detection devices designed to detect shoppers, employees or travelers with elevated body temperatures as they enter a retail location, workplace or transit hub. Manufacturers caution that such equipment should not be viewed as a sole or primary means of diagnosing, preventing or treating any possible illness. However, it can serve as a screening mechanism to be followed by further evaluation using a clinical grade contact thermometer or the like.
These thermal detection devices are available in camera-style devices and access control readers that generate alerts or triggers. Unlike handheld scanners, these options don't require human operation, minimizing risk to the operator and potentially reducing personnel costs. One option is to integrate this technology with an access control system to prevent employees with apparent elevated temperature from entering the workplace until further screening. Where lawful, thermal detectors also can be combined with facial recognition technology to identify employees found to potentially have elevated body temperature.
Some vendors also are enhancing their video analytics and access control reader technology to detect whether people are wearing masks – a capability that could be useful for retailers or other businesses that require masks to be worn as a protective measure against the spread of infection.
Security Equipment Supply is a leading wholesale alarm equipment distributor in the U.S. with 37 years of experience serving security dealers. Our sales and support personnel have been trained on elevated temperature and mask detection technology by the equipment vendors and are ready to answer your questions about the technology and help you select the best equipment for your customers' needs.
Retailers and other businesses are already making changes in how they operate and could benefit from the capabilities we've outlined here. Now would be a great time to give SES a call to learn more about these new technologies.