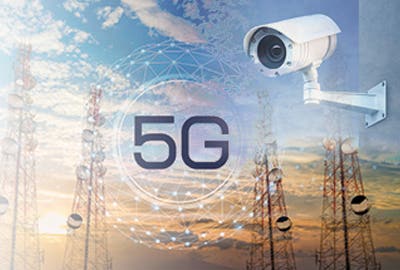 Video Surveillance Could Benefit from 5G Wireless – So What is 5G?
Video surveillance, specifically outdoor video surveillance, will have the largest share of the 5G Internet of Things market over the next three years, according to researchers at Gartner.
What is 5G?
It's the fifth generation of cellular service, and its key benefits for users include potentially faster data speeds and lower latency. Considering that video is latency-sensitive and considering that more bandwidth could mean better image resolution, it's not surprising that video surveillance is seen as a promising use case for 5G.
A key challenge of video surveillance has been obtaining sufficiently good image quality to enable apprehension or prosecution of perpetrators -- and having more bandwidth should help address that. Meanwhile, lower latency should help reduce image jitter and potentially enable faster transmission to authorities.
A Key Caveat
There is an important caveat about 5G; however: The speeds that the technology can support depend on the spectrum band in which service is deployed and the amount of spectrum used.
In general, the higher the frequency band and the more spectrum used, the faster the service. AT&T and Verizon have achieved speeds of one gigabit per second (1 Gbps) or more in some limited early deployments in which they have used several hundred megahertz of ultra-high-frequency spectrum in the millimeter-wave band.
To put that in perspective, most people subscribe to internet service from their cable or phone company at or below 100 Mbps today – no more than one-tenth as fast as the speeds AT&T and Verizon have achieved with 5G.
Having said that, it's important to note that the amount of spectrum AT&T and Verizon used to support gigabit speeds using 5G is way more than wireless carriers traditionally have had available to them. Current generation technology is usually deployed in channels that are no more than 20 MHz wide – a small fraction of what's needed to get the highest speeds from 5G.
What's also important to recognize: the higher the frequency used, the less distance wireless signals can travel. While cell sites operating in some of the lower-frequency bands currently used by wireless carriers might cover a radius of several miles, that distance is substantially less for millimeter-wave deployments. And that means it will take denser cell site infrastructure and considerably more time to deploy 5G in millimeter wave bands.
AT&T, Verizon, and T-Mobile have all made limited 5G millimeter wave deployments, and for all three companies, that technology covers only high-traffic areas of certain major markets.
U.S. Wireless Carriers
None of the carriers plan to rely solely on millimeter wave spectrum, however.
T-Mobile in early December launched 5G covering the majority of the U.S. population – a milestone T-Mobile was able to reach because the company used relatively low-frequency spectrum. The downside is that the speeds supported in some areas are no faster than on current 4G networks. AT&T plans to launch nationwide 5G in the first half of 2020, but to achieve that, the company, like T-Mobile, will be relying primarily on low-frequency spectrum, which means performance should be similar to what T-Mobile is seeing.
Sprint has deployed 5G in parts of several markets using mid-band spectrum for its 5G deployments. Mid-band spectrum offers speeds that are faster in comparison with the lower-frequency spectrum and slower in comparison with the higher-frequency spectrum. Coverage is better than for higher-frequency spectrum and less than for lower-frequency spectrum, and deployment in that band should be faster than for millimeter-wave deployments but slower than for lower-frequency deployments.
The Upshot
The upshot is that the full impact of 5G on the video surveillance market is unlikely to be seen for several years. The announcement about the Gartner research doesn't indicate the estimated size of the initial 5G IoT market, but it's likely quite small in comparison with later years.
Nevertheless, 5G has the potential to improve video surveillance dramatically, and manufacturers would be smart to begin building 5G-compatible equipment sooner rather than later.
This is an area that Security Equipment Supply (SES) will be following closely. As a leading wholesale alarm equipment and security camera distributor in the U.S., we have 37 years of experience serving security dealers. We carry a broad range of equipment, including video surveillance. And our knowledgeable employees can help you select the right products for your video surveillance and other security system needs.