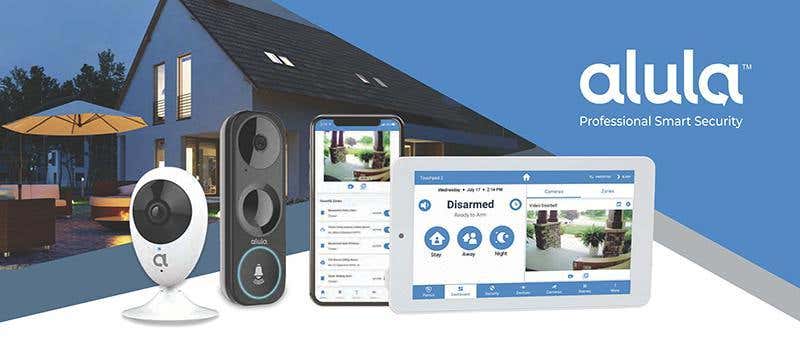 What makes the BAT-Connect Communicator a great sunset solution?
The BAT-Connect alarm communicator from Alula universally adapts to millions of existing security panels, both wired and wireless, and updates each of those legacy panels to app-driven, mobile control. This communicator allows you to save most aging systems from sunsets, while also driving new RMR by upgrading your customers security system to include video and automation services.
The BAT-Connect works with Verizon (IPD BAT-CONNECT-V) and AT&T (IPD BAT-CONNECT-A).
What are the benefits of choosing BAT-Connect?
Panel Compatibility is Near Universal – The Alula BAT-Connect will initially support Honeywell Vista, Interlogix Concord, Napco and DSC PowerSeries. Event Reporting is supported for any security panel with Tip & Ring connection.
Triple-Path Communication – The BAT-Connect offers three different paths of connectivity (Cellular, Wi-Fi, or Ethernet), includes automatic failover and supervision of standby cell interface.
Cellular Sunset Solution – With three paths of connectivity and 5G-ready communications, the Alula BAT-Connect can reduce the impact of future cellular sunsets for your company. Don't forget to take advantage of Alula's Ultimate Sunset Rebate. This rebate offers a $99 service credit for sunset replacements, making the BAT-Connect virtually free! More details are available at alula.com/sunset.
Easily add Home Automation – an optional Z-Wave card is offered with the BAT-Connect, allowing dealers to easily add automated locks, garage door controllers, lights, thermostats, or any other Z-Wave certified devices!
Includes Video and Touchpad – Leveraging video helps to create new service subscriptions while driving attrition rates down. Intuitive touchpad controls are enabled through the Alula iOS and Android apps, as well as the 7 inch Touchpad.
Uses a Fast Network for App Control – The average response time to user commands on the Alula Network is 38 mS (about 10-times faster than you can blink). This means that Z-Wave connected devices like smart locks and garage door openers active immediately, eliminating reasons for return service calls and unsatisfied customers.
BAT-Connect makes for a quicker, easier install
The Alula BAT-Connect modernizes millions of existing wired and wireless security panels to make installation as painless as possible.
Triple-path flexibility uses Wi-Fi, Ethernet, or Cellular to support constant connections to 4G and 5G networks.
The BAT-Connect also auto-captures zone names, enables full interactive controls to the most popular panels by connecting with auto-BUS, and saves on service calls by providing Remote Panel Programming with AlulaConnect.
Enable Video Service with the BAT-Connect
Another great feature of the BAT-Connect communicator is it allows for the addition of video to legacy security systems, helping drive new RMR for your business. Popular video services to add include Indoor Mini Cameras, Outdoor Bullet Cameras, and UHD Video Doorbells.
Alula Video Products:
RES RE700 – Indoor Mini Camera
RES RE701 – Outdoor Bullet Camera
RES RE702 – Indoor 360 Camera
RES RE703 – Video Doorbell
All the Alula products mentioned in this article are available for purchase at your local Security Equipment Supply branch. Security Equipment Supply is a wholesale distributor of low-voltage products, including alarm communicators, residential/commercial security, access control and more! With 13 fully-stocked branches located across the United States and a dedicated team of account representatives ready to assist you, consider partnering with SES for that upcoming sunset project.