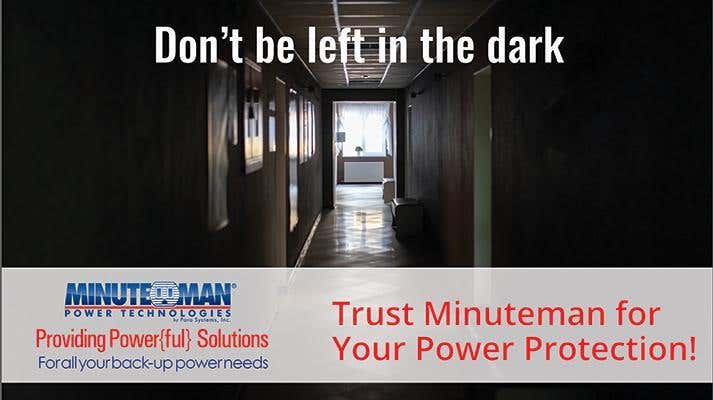 Complete Power Protection to keep You Powered On
Choosing the right system for your application is critical in ensuring that your equipment will be there when power fails. Minuteman Power offers products ranging from 350VA to 20kVA ensuring the right solution for your application is just a click away, whether you are backing up a desktop workstation or an entire facility.
Learn More About the Three Types of UPS Technologies
Standby UPS Systems
Ultimate cost-effective battery backup for small loads/applications
How Standby UPSs work:
The most basic UPS technology, Standby UPSs provide filtering and protection from spikes and surges. The battery within the unit is utilized to normalize low voltage situations, high voltage events, and blackout conditions. If one of these conditions occurs, the inverter automatically switches to battery mode to condition the power.
Line Interactive UPS Systems
Cost-effective power protection for critical devices
How Line Interactive UPSs work:
The "Better" level of UPS technology, Line Interactive UPSs provide filtering and protection from spikes and surges by utilizing an automatic voltage regulator. A Line Interactive UPS preserves battery life because it is not constantly switching to battery mode in areas plagued with brownouts.
In a blackout situation, all Minuteman line-interactive UPSs switch to battery mode in less than 4 milliseconds. Additionally, line-interactive units provide protection from spikes and surges, plus RFI and EMI filtering.
True Online UPS Systems
The best quality protection for critical and sensitive devices
How Online UPSs Work:
The "Best" level of UPS technology, Online battery backup systems provide the highest quality of power protection by incorporating double-conversion technology, whereby power coming into the UPS is converted from AC to DC. Power is then conditioned and converted back to AC at the output of the UPS.
Online UPSs eliminates the need to transfer or switch since power runs through the battery system always. By isolating the input from the output, online UPSs provide true sinewave power to attached equipment that is clean and free of any power anomalies, making them an ideal solution for sensitive information systems, network equipment, as well as protection from power anomalies which can be present during the changeover to generator power.
To learn more about Minuteman Power products please visit their website here, or reach our to your local SES representative.