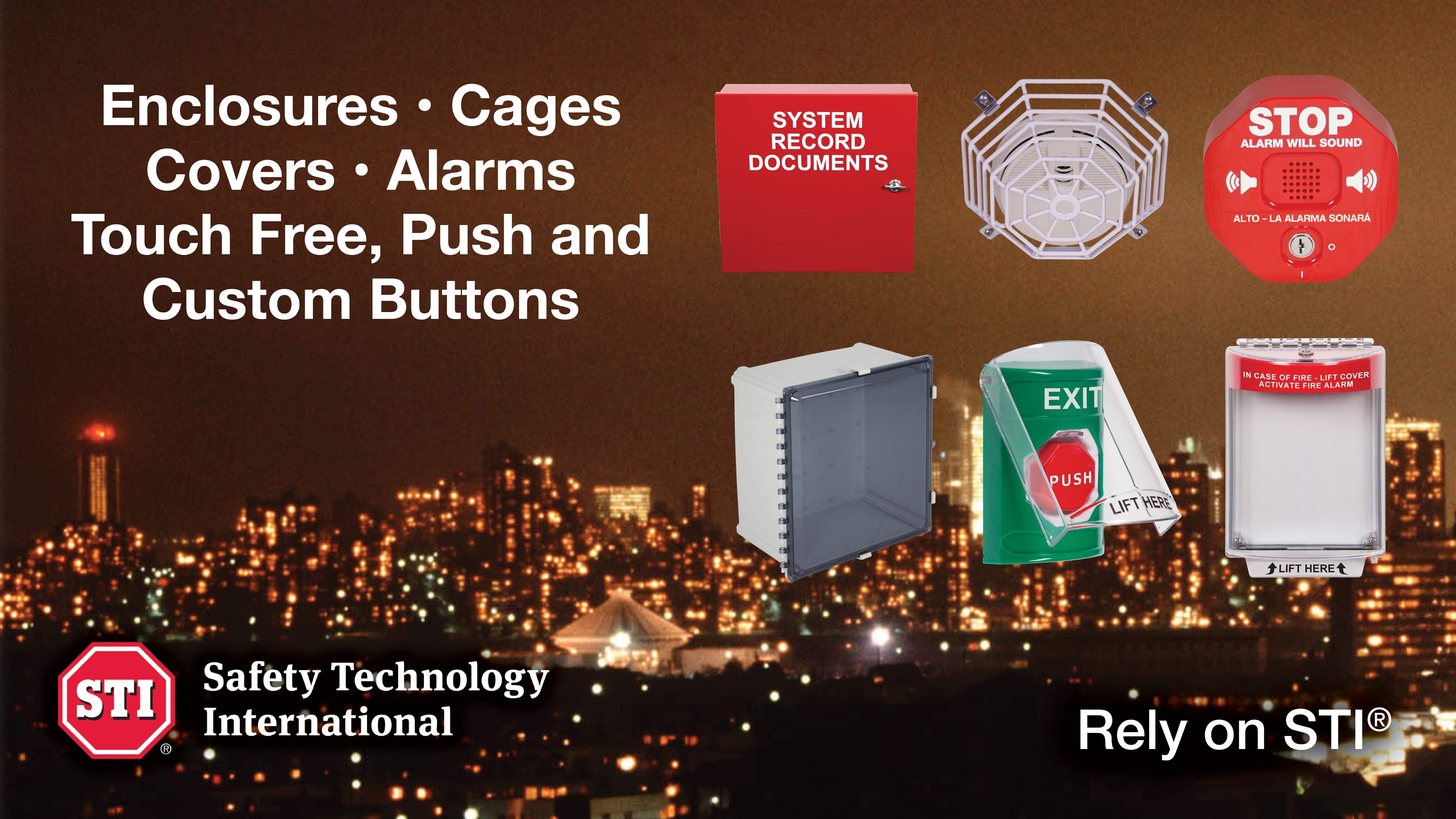 Emergency Buttons Allow Rapid Response to Critical Incidents
Safety Technology International is a long-time trusted manufacturer of fire, safety and security products that help deter false alarms, prevent theft, and minimize damage to equipment in buildings around the world. For over 40 years STI's mission is to help reduce building disruption, vandalism, tampering and theft.
A wide spectrum of emergencies presents an increasing threat to society. Preparedness is vital to mitigate the risk of an active critical incident.
The escalation in violent situations has forced building owners to take the necessary steps to create a safe environment for occupants. Mass notification with emergency or panic buttons are consistently gaining traction nationwide amid a surge in public building violence.
Permit the power of early warning with STI's Stopper® Station push buttons. Capable of being activated with an elbow, the easy-to-use buttons aid in rapid response to critical incidents. The buttons allow users to perform a calm, effective and confident action when needed.
The multipurpose push buttons are available in six colors, with ten button activation choices, and standard or custom labeling (in virtually any language). Optional illumination allows users to easily find the push button when lights are turned off for safety reasons or while in a dark corridor. The 12-24 volt LED insert illuminates red, green or white.
Several tough polycarbonate protective covers with or without a siren are available to help combat accidental activation or malicious intent. Stopper Station push buttons are listed to UL and cUL standards and are ADA Compliant.
One of the most touched surfaces in a building is a door handle. Using touch-free access control technology is in high demand and is a simple solution to help promote a more hygienic and safer environment.
STI's NoTouch® IR Switches aid in minimizing physical contact and decrease the risk of spreading germs.
To exit or enter a building without touching the door, a user must simply wave their hand in front of the no touch button. The active infrared is designed to detect the motion of a wave, send an electrical signal to the door operator, and unlatch the time adjustable door. The touch-free action reduces germs from transferring to hundreds of hands and surfaces, helping to reduce the spread of infection.
Setting the NoTouch IR switches apart from competitor models, STI's durable and long-lasting buttons offer:
Safety. The need for infection prevention in spaces has increased. Effective procedures are essential. The NoTouch IR Switch is a simple solution to help safely protect users and inhibit the risk of growth and exposure to bacteria.
Confidence. NoTouch active infrared delivers unprecedented technology to easily detect the motion of a user's hand waving in front of the touchless button to unlatch the time adjustable door.
Choices. Constructed of medical/food grade 304 stainless steel, switches are offered with double-gang, single-gang or slim/mullion mount with a back box. Label options include EXIT, OPEN or an exit symbol. They offer a dual color status LED that allows installers to choose color indicators (green/red or red/green).
STI's Universal Button helps eliminate having to stock dozens of push buttons and wasting precious time and money tracking down the right button for a customer. Ready to assemble out of box, the UB-1 has everything required to provide what the customer wants in one convenient package. Use the switch as is or easily reconfigure for a specific application.
The single-gang momentary button has two sets of Form "C" contacts which covers almost all electrical combinations required. The faceplate is constructed of cast aluminum, allowing it to take tough knocks in stride, and is slightly oversized to cover old plate installation marks.
The UL/cUL Listed button offers over 300 combinations in one package for the price of a standard one configuration button.
STI's Universal Pneumatic Button (UB-1PN) has a mechanical adjustable timer which opens or closes a circuit and has a timed delay before reset. It does not require power for actuation and has a timer life of over 1,000,000 operations. When local code or authority requires a pneumatic button be used, STI's device solves the problem.
For over 40 years you can Rely on STI® for covers, cages, alarms and buttons. Find more information on Safety Technology International at www.sti-usa.com/ses10 or call 248-673-9898.