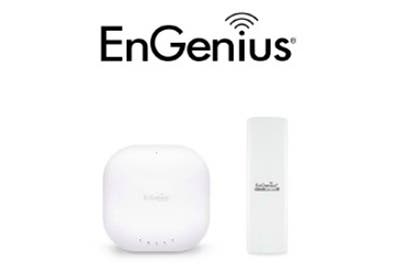 EnGenius Technologies is Now Available at SES
St. Louis, MO - November 1, 2017 - SES, a leading distributor in the low voltage industry since 1982, is pleased to announce EnGenius Technologies as a new vendor to our Networking Solutions line card.
EnGenius, an industry expert in wireless communications and radio frequency (RF) technology for over 18 years, delivers feature-rich, long-range, business-class solutions for voice and data that empower your customer's mobility. The versatility and performance of EnGenius' solutions increase productivity and maximize the return on investment for small to mid-size organizations and large residences.
Engenius' portfolio of networking solutions includes the industry's most comprehensive line of managed and unmanaged wireless solutions, Gigabit switches, and IP-based surveillance systems that deliver long-range connectivity, robust feature sets, and versatility for class-leading price/performance value.
Security Equipment Supply, Inc (SES) has been a low-voltage distributor since 1982. SES started with one branch in St. Louis and now has grown into thirteen locations throughout the United States including St. Louis, Detroit, Chicago, Kansas City, Memphis, Indianapolis, Wisconsin, Nashville, Louisville, Omaha, Colorado Springs, Dallas and Austin. SES is committed to being a business partner customers can count on.
###
Contact: Crystal Koelsch
Security Equipment Supply
Phone: (314) 298-8930
Fax: (314) 298-9501
Email: Ckoelsch@sesonline.com