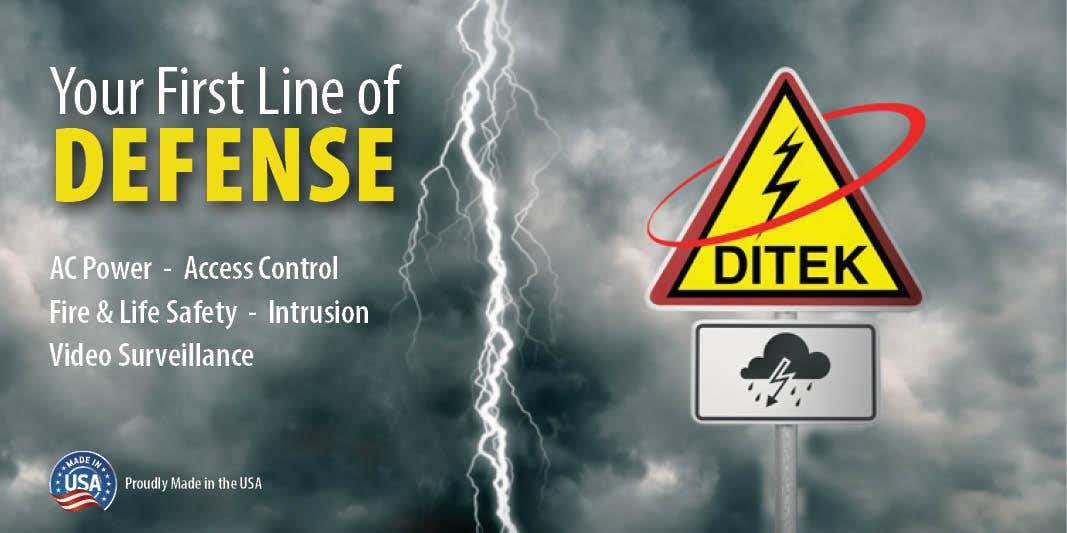 How Can I Protect Power Over Ethernet Equipment from Electrical Surges?
Protecting security equipment from electrical surges is critical – and that includes Power over Ethernet (PoE) equipment.
Ditek Surge Protection Devices (SPDs) safeguard AC power, fire panels, access control systems, network devices, burglar alarms, and video surveillance systems, including those that use PoE technology to provide power and network connectivity over a single Ethernet cable.
As with other electronics, PoE devices operate within specific current and voltage ratings. Excess current or voltage can damage internal components. An SPD intercepts excess electricity and diverts it safely to ground using a grounding wire.
A power surge can travel in any direction along Ethernet cable. Ditek recommends using two SPDs per PoE device, with one installed just before the end-point PoE device and another installed just before the nearest PoE switch, which sends power to the Ethernet cable.
PoE devices installed outdoors should use SPDs designed to withstand rain, dust, snow, ice and humidity.
Ditek's 10 GbE DTK-MRJPOES is designed with state—of-the-art circuity to provider superior protection for shielded Power over Ethernet connectors. The SPD can be installed at the equipment end or ahead of injectors and mid-span devices.
A Wide Range of Ditek SPDs
Ditek also offers SPDs to:
protect security systems against transient surges that can enter through AC power lines, telephone lines and remote notification zones
protect commercial and residential gates, card readers and magnetic door frames.
protect addressable and conventional fire alarm control panels, communicators and notification loop circuits
protect digital and analog video surveillance equipment – Ditek IP video surge protection devices are Gigabit Ethernet devices designed to protect systems that transmit over various types of cabling; Ditek analog video surge protection protects analog CCTV systems and high definition systems such as HD-CVI, AHD, HD-SDI and HD-TVI
Ditek SPDs are available at your local Security Equipment Supply (SES) branch. Security Equipment Supply is a leading alarm distributor. We handle residential/ commercial alarm equipment, as well as access control, video and fire protection equipment and the SPDs to protect them. SES has 13 fully stocked branches across the U.S. and a dedicated team of account representatives ready to assist you with all your life safety and home security equipment needs.